Adult Neurologic Rehabilitation Camps: Due to the high demand for neurologic rehab services, our adult neuro camps provide a unique way for persons suffering neurologic injuries, such as, stoke and spinal cord injuries, to receive a larger bulk of therapy in a short amount of time. Dr. Riley learned about this innovative treatment from Dr. Valerie Carter, PT, DPT, NCS, an associate PT professor at Northern Arizona University.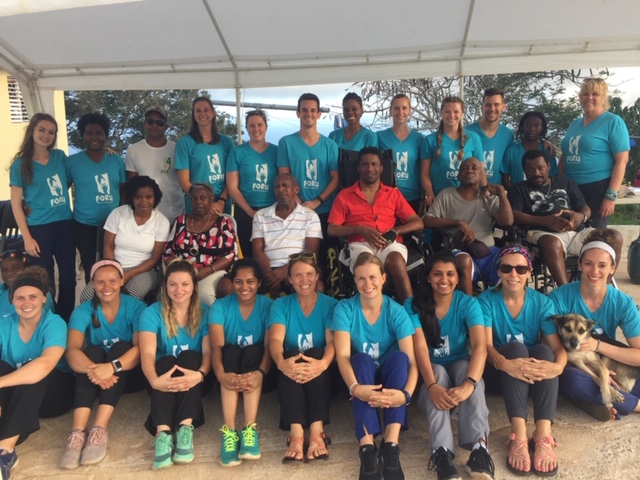 Dr. Carter runs stroke camps each summer with her PT students in Arizona. In 2009, Dr. Carter came to Jamaica to help Dr. Riley set up FOR U's first camp. Camp participants receive a seven-day intensive physical therapy treatment consisting of pre-testing, three and a half days of intensive neurologic rehabilitation, home visits, community re-integration, and post-testing. The functional improvement that participants make in such a short amount of time is absolutely amazing.
FOR U partners with both Jamaican and US-based PT programs who donate their time, resources, and energy to each camp. This partnership allows students to get a lot of hands on experience working with persons suffering from neurologic injuries while being mentored by seasoned therapists.
Be the next group to partner with us! Pediatric Rehabilitation Camps: FOR U began hosting annual Pediatric Rehabilitation Camps in 2017, with the help of Dr. Judy Prehn, a pediatric specialist from William Carey University. These camps focus on partnering with families to ease the burden of care-giving by providing education and adaptive equipment. These camps provide multidisciplinary care including PT, OT and speech therapy.